Pool upgraded to v4.0.3! Mandatory update & hardfork @ block 1,430,000!, posted Dec 7, 2015 at 08:59
★★ Introducing DigiByte v4.0.0 DigiSpeed★★
DigiByte Core v4.0.0 Wallets & Source
Hard Fork @ Block 1,430,000  
Thank you to everyone!
At this point a majority of critical DGB infrastructure has been updated with an estimated 500+ core wallet installs within 36 hours!
Hard Fork Expected - December 5/6th
Release Notes:
* Changes occur @ block 1,430,000
* 15 Second Blocks
* Scalability to match Visa TPS by 2021 & continued scaling through 2035
* Minimum TX & Relay Fee set to 1 DGB to prevent attacks
* MultiAlgo Difficulty adjustment code changed to make 51% attack much, much harder
* Transaction propagation changes based upon Microsoft research
* Reward adjusted to accommodate faster blocks, still stays the same (21 billion DGB in 21 years)
* OP_RETURN data increased to 80 bytes to allow embedding more data (like document hashes)
* Safe mode warning error fixed
* Check point added
* Private key compatibility issue fixed ( addresses from the DGB paper wallet address generator now work properly)
After much testing we are ready to get 4.0.0 into the wild! Please help spread the word and help get all mining pools & exchanges to update. As soon as an exchange or pool has updated please notify us and we will update our main list!
Pool upgraded to v3.0.3! Mandatory update & hardfork @ block 400,000!, posted Dec 9, 2014 at 16:10
We can assure you our pool is up to date!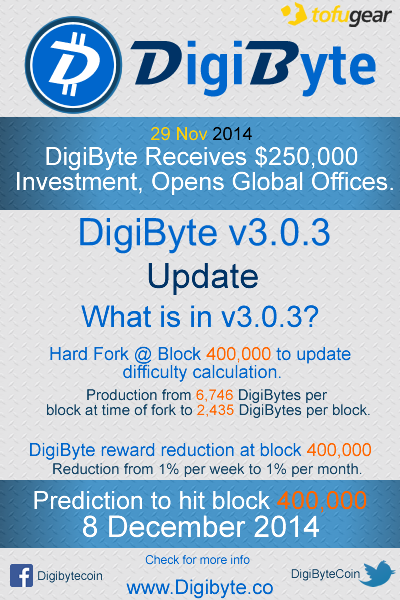 Pool updated to latest v3.0.2.1, posted Oct 21, 2014 at 10:59
v3.0.2.1 is minor update with some improvements and bug fixes:

- additional nodes seed servers
- new checkpoint at block 245,000
- "Large valid fork found forking the chain at height" bug fixed for pool operators

Download new client from DigiByte official source.

I Want You for DigiByte!, posted Oct 2, 2014 at 19:56